Qservers was the first ever web hosting company in Nigeria I used when switching from a free host to self hosted.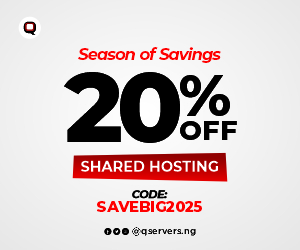 Naturally, the idea that hosting companies in Nigeria are not worth it permeates the minds of the average Nigerian blogger, and for very good Individual reasons I'm sure. But not all are crappy.
And despite my present reservations about Qservers, I must admit they saved me from serious headache back when I was beginning…
It was year 2015 and I had gotten frustrated with top foreign hosts like Fatcow and Hostgator rejecting my Ecobank MasterCard over and over again.
It was obvious the card, though a MasterCard wasn't activated for e-commerce (even though the very incompetent customer care told me all Ecobank cards of that sort were activated for online shopping).
By sheer favour of God, I stumbled upon a guy at the cyber cafe during that period who had just built a blog hosted on Qservers and he introduced me and showed me the ropes.
How much did I pay that year? N5,000 for a one year hosting plan with a .com domain on their least bundle (which later increased to N6,500 with the Naira-Dollar fluctuations).
I went on to host 2 more websites on Qservers after that and racked up a few important lessons I thought I'd share in this Qservers review with anyone considering using the Nigerian web hosting company.
The Cons of hosting with Qservers
#1. Downtime
Just like you ALWAYS see the tempting word "SEO optimized" for those familiar with premium wordpress themes, so also you see the words "99.9% uptime garanteed" in virtually every web host in the world.
It's just a sales tactics (and a very effective one) that makes you want to spend your money.
I had activated a software in Pingdom Tools that tells me when my site goes offline and I learnt something new. It went offline a few times according to their reports. But then which web hosting company in Nigeria or the world for that matter, doesn't go offline once in a while?
The Pros of hosting with Qservers.
#1. Wonderful customer care service.
Many Nigerian companies have been proven to render really crappy customer services (like that bank I told you of) that aren't even 24/7 like some claim.
While I was just starting out, I cannot explain the gratitude I have for their customer care guys. They helped me through the really uncharted waters of first time website design and setup and I'm entirely grateful for this.
#2. Multiple options of payment.
I told you I had issues with my Ecobank MasterCard being accepted. Hosting with Qservers gave me the delightful option of paying via bank transfer. You can see how that came in handy during my predicament.
#3. Affordability.
If you know the current dollar equivalent to Naira, you'll agree with me that using a foreign web host comes with greater financial commitment (Paularo, one of my old college mates who owns Nairatips.com pays at lesst $240 per year for a foreign host. Times that by N400).
Especially when you're just starting out, it's important to limit your startup costs to only the necessities. So a N5,000 commitment is great for the beginning stages when you're in the experimental phases of your website.
#4. You get something for free!
If you buy a hosting package with a domain name, as long as that domain name has an extension of .com.ng, .org.ng, .sch.ng or any other extensions they support that ends with .ng, you get to have that domain name for free for a year.
Thus you only pay for the hosting that year (which can be as low as N3,000-N4,000 only).
#5. You can make a boatload of money!
Everybody loves to make money, undoubtedly. Well Qservers.net allow you to signup for their Affiliate program in which you place your unique affiliate links/banners to their site and get a 20% commission for every successful purchase through your unique link.
And oh BTW, you get a bonus of N500 just for signing up and withdrawal threshold sits at just N3,000.
To signup now simply go to their website > Scroll down to the bottom of the page and find the "Affiliates" menu > signup.
The bottom line.
Funny enough, I can't seem to find another downside to hosting with Qservers. The good obviously outweight the bad.
So if you've considered what the above review of Qservers means to you carefully, and you've decided to go for them, you can get a discount by purchasing a domain name or a hosting plan right now by clicking here.
You comment – I follow
Do you have any experiences using these guys before? Have you ever used any Nigerian web hosting company before? Tell us your experience below in the comments section and drop your handles so I can follow all commenters.